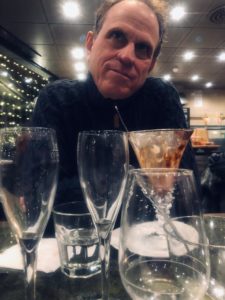 In The Winter of J, Gary Percesepe writes compellingly about the commingled passion, loneliness, and surprising bliss of a doomed relationship with "J," a woman who moves fleetingly and luminously through his life one winter season. It is a scorching exploration of both transience and intimacy, transcending the personal to touch a universal connection with all that is
~ Joelle Fraser, author of The Territory of Men
---
Percesepe cuts himself wide open in this candid portrayal of a love story that soars before bursting into flames and cinders. Lucid and visceral, every page packs an emotional punch. Percesepe dissects the foibles of love with a surgeon's scalpel and a watchmaker's keen eye. The writing is at once subtle but searing, and while the journey he describes is his own, the path will be intimately familiar to any reader who has ever loved and lost someone they cherish.
~ Len Kuntz, This Is Why I Need You
---
The Winter of J is not simply a love story – it takes as its subject the evolution of love from its tender and uncertain beginnings, through disillusion and withdrawal, to the place of after-love, where the writer can attempt recollection in a semblance of tranquility.   
~Mary Grimm
---
"Why am I here? I am here to learn again the calculus of loss, / the difficult arithmetic of the recalcitrant heart." Reader, that's why you are here too. Through the recounting of a five-month affair in Buffalo, Gary Percesepe in The Winter of J mines the large life lessons that love discovered and love dissolved have to teach.
~Bill Yarrow, author of Accelerant and Against Prompts
---
In his sharp new collection of poems Gary Percesepe gives us pretty much a relationship from A to Z: from the early days "when everything I wanted was in that room" to the bittersweet ending when the relationship becomes, as Woody Allen famously put it, a dead shark—all capped by the memories that linger, the good and the bad, and the eventual moving on ("The mystery of beginning, resumes.") At times prose-like and lyrical, wise and searching, tender and erotic, jubilant and heartbreaking, Percesepe's writing never fails to keep the reader engaged. And I like that the characters live in Buffalo and Upper Niagara—hardy people from the north country who can teach us about toughness, love and resiliency, and give us wonders like The Winter of J.
~ Tim Suermondt, author of Josephine Baker Swimming Pool
---
Gary Percesepe presents emotional density in The Winter of J that shifts atmospherically from one poem to the next. This episodic meditation on the journey of a relationship is equal parts subtle and harsh, as it examines what it is to be both nourished and brutalized by love.
~ Jen Knox, author of Resolutions 
---
The Winter of J is a lyrical undressing of the beauty and the pain and the resolution of love—and love lost. Percesepe's poems are vivid and gorgeous, delivering one unforgettable line after the other.
~ Jules Archer, Author of Little Feasts & All the Ghosts We've Always Had
---
To read Gary Percesepe's poetry collection The Winter of J is to not only feel more connected to the world, but also to the people who populate it. His poems' dazzling imagery ("When she finally arrived, it was like a cello played inside me"; "Hours hung on the line like frozen shirts"), demonstrate Rita Dove's notion that "Poetry is language at its most distilled and most powerful." Gary Percesepe has written a book for all seasons, where empathy abounds like lake effect snow in Buffalo; where readers are encouraged to learn, unlearn, and enter conversation: "Please, someone, interrupt."
~Joey Nicoletti
---
Gary Percesepe has been delighting us with his poetry for many years. Here he turns his steady eye on the thing that makes most eyes unsteady: the breakup of a relationship that "falls of its own weight." Masterfully realized, these poems reach deep into love and loss, and what it means to live with them both.
~ James Valvis, author of How to Say Goodbye
---
Reading the poetry of Gary Percesepe's The Winter of J, his latest collection, is like sitting down with a good friend, talking through the night—the dark world outside the window raging in its cold while the hearth and fire warm the body. This is a poetry of juxtaposition—one story with many sides, both glimpsed and full viewed, swirling the reader's head to reveal gems of lyrical truths that only poetry can find. The writing is direct and real in creating a world of escape, longing, and need. This poetry is, as Percesepe writes, "the calculus of loss, the difficult/ arithmetic of the heart." You can't resist this book—so don't.
~ Sam Rasnake, author Cinéma Vérité and Inside a Broken Clock
---
Familiarity in landscape, subject, and the connected ache of them is why this brief yet staggering (at times) collection is an important read. Percecepe draws you into the Jeep he is driving, shows you the road, gestures to the cup holder and makes you wonder who last quenched their thirst from that space. It is not possible to read these words without placing yourself within their storied worlds.
~ Kate Hill Cantrill
---
The Winter of J tracks love, and the long tender education of its aftermath, with intimacy, honesty, humor. Percesepe has crafted a map of heartbreak and reconstruction so freshly told, you'll understand your own love stories anew. This is what it feels like to be adrift in another.
~ Sarah Herrington
---
Percesepe's poetry seems straightforward but is complex as flowers, and contained by no borrowed forms but original truths and no meter but the throbs of a heart
~ James Robison
---
Gary Percesepe drops you into an ambiguous world and pulls you back again, still reeling. He does it so deftly, you don't even realize you're bleeding until it's over
~ Heather Cox, author of California King
---